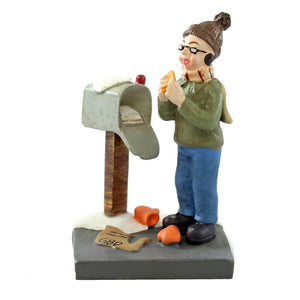 My Secret Decoder Arrived from Dept 56 A Christmas Story Village EXCLUSIVE
After weeks of anticipation secret decoder ring finally arrives, ready to decode crummy commercials for Ovaltine! A heartwarming Christmas Classic that can be enjoyed by the whole family. A humorous tale of a young boy named Ralphie, with one thing on his Christmas list, a BB Gun. Enjoy the My Secret Decoder Arrived piece adorning in your collection all winter long. Who knows what secret messages Ralphie will unravel with his Little Orphan Annie Decoder Ring? This accessory by Department 56 perfectly captures the joy and excitement of getting something in the mail. Perfect for fans of A Christmas Story, Department 56, and well, Ovaltine.

Product Features:
My Secret Decoder Arrived
Handpainted and Handcrafted from skilled artisan
A Christmas Story House Exclusive
Officially Licensed by Warner Brothers 
Weight: .125 lbs
Dimensions: 1.5" L x 1.25" W x 2"